Margaret Blaha, Barn Manager

Horses have always been a passion for Margaret. She spent ten years in Westernaires, then moved to Nebraska to study horsemanship under a World Champion Colt Starter. While studying with him, she served as Barn Manager for his horse-training business.
She is both thrilled and honored to have the opportunity to manage Churches Ranch. She enjoys providing a safe and loving environment for the animals, while also encouraging an educational and enjoyable environment for our volunteers.
---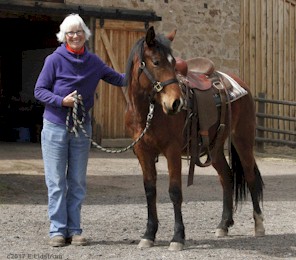 Terri Melander, Assistant Barn Manager
Terri Started with HPL the Fall of 2012. Year by year, she became more involved by saying "I'll do that!" She started mucking with a Wednesday volunteer mentor named Clarence, in Billy and Badger's pen. Then she was trained to do water tanks and eventually handling and grooming the horses.
Now, she's a thankful owner of two very precious horses named Amigo and Nina. Her educational background is a graduated vet tech in small animal medicine.