Sport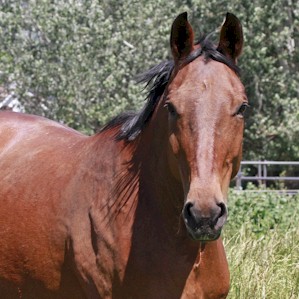 Brought to us July of 2017, Sport is a handsome Oldenburg warmblood. Foaled in 2000, Sport has been used previously as a jumping horse. Slight arthritis means he is currently suitable for light riding, but can potentially do more. This 17-hand high gentleman is a wonderful, charming, in-your-pocket, lover of a horse – ready for his forever home!
Adoption fee $1,200
Sundance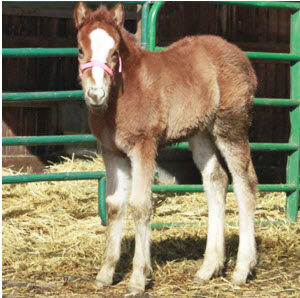 Foaled here January of 2017, Sundance has flourished into a beautiful and cherished mare here on the ranch. Halter-broke, and learning about grooming, Sundance can be led and brushed and is getting better by the day with picking up her hooves. Friendly as they come, this sorrel little mare shows a lot of potential!
Adoption fee $500
Anna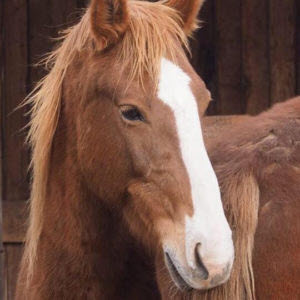 Rescued from the ISPMB situation in South Dakota as a previously untouched horse, Anna was picked up November of 2016. She is approximately 10 years old (possibly foaled around 2007), sorrel in color, and stands approximately 14.2 hands high. She currently wears a halter and has had some handling, but training was put on hold when she surprised us with a beautiful filly (Sundance) in mid-January of 2017! We will consider interested adopters who are either professional trainers with extensive experience with wild horses, or adopters who plan to place her immediately in training with an equally qualified trainer. Her handling here will continue as well. Trainer Special!!
Adoption fee – Trainer's Special! $125
Boo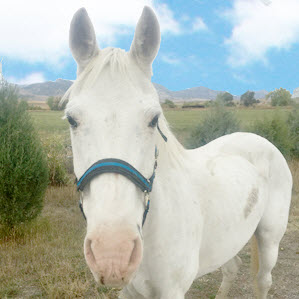 Colorado Horse Rescue Network placed this wonderful POA gelding with us September of 2016. Standing 14.1 hands high, and almost completely white in color, this charming 20-something-gelding (possibly foaled around 1995) is guaranteed to steal anyone's heart. He was said to have been shown by children and has proven himself to be a friendly and gentle horse. He is suitable for small/light riders and is beginner friendly. He is perfect for adopters interested in a horse that can do leisurely riding around home and on the trails.
Adoption fee $300
Tommie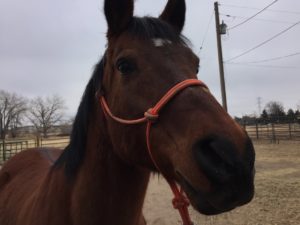 Tommie, foaled in 1996, is a friendly and handsome, grade, bay gelding standing 15 hands high. He has been a safe riding companion for both kids and adults, however, arthritis in his front legs means he is available as a companion only. This loving boy is sure to steal your heart and be a wonderful pasture mate for any horse.
Companion Only – Adoption fee $200
QT Val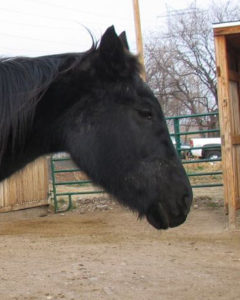 This beautiful registered American Quarter Horse mare goes by the name "Q.T. Valentine". Foaled in 1994 and almost completely black, she's as beautiful as she is sweet. Some arthritis in her front end leaves her available as companion only, however, her career as an accomplished ranch horse means she is extremely gentle and easy to be around. Catch, groom, trailer, tie, and stand for a farrier, this sweetheart of a mare does it all. Her friendly disposition makes her wonderfully suitable for any horse needing a friend to share their pasture with.
Companion Only – Adoption fee $200
Elsa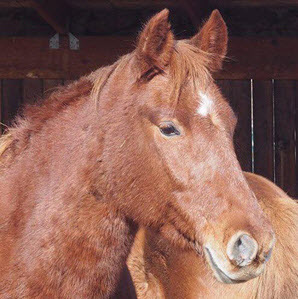 Rescued from the ISPMB situation in South Dakota as a previously untouched horse, Elsa was picked up November of 2016. She is approximately 8 years old (possibly foaled around 2009), sorrel in color, and stands approximately 15 hands high. She is a stout, stocky mare who is becoming increasingly friendlier. She has worn a halter and had some handling. We will consider interested adopters who are either professional trainers with extensive experience with wild horses, or adopters who plan to place her immediately in training with an equally qualified trainer. Her handling here will continue as well. Trainer Special!!
Adoption fee – Trainer's Special! $125
Geronimo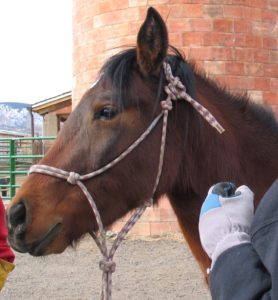 In March of 2016, Colorado Horse Rescue Network offered Geronimo to us as a yearling (believed to have been foaled in June of 2015). He and 2 other foals came to us untouched from a reservation in the Four Corners area. He is a handsome bay gelding who is now halter-broke, easy to handle and trim, and has been saddled numerous times. He stands approximately 12 hands high but continues to grow. This friendly young gentleman would love a forever home with opportunities to continue to learn and grow as he is very intelligent and enjoys training tremendously.
Adoption fee $250
Glory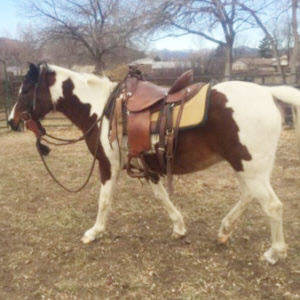 This gorgeous tri-colored (bay pinto) mare came back to us in a return that was no fault of her own in May of 2017. Born in 2000, and standing 13.2 hands high, Glory is broke to ride for intermediate riders, and safe for beginners to handle. She is suitable for leisurely riding with light, experienced, riders around home and on the trails. She is ready for her loving forever home!
Adoption fee $500
Jackie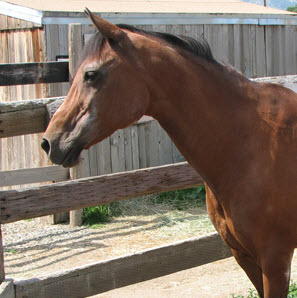 This beautiful bay Arabian mare stands 14.3 hands high and was foaled in 1992. Brought to us in February of 2010, Jackie is extremely friendly, affectionate, halter-broke, and sane. She loads, ties, and grooms with no issues. She is available as companion only and is safe for beginners to handle.
Companion Only – Adoption fee $200
Raja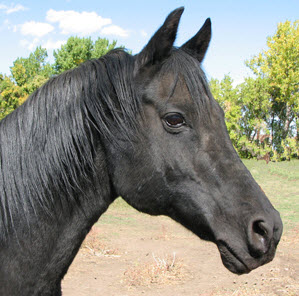 Brought to us September of 2012, this handsome, solid black Arabian gelding has been ridden, driven, and even knows a handful of tricks! Foaled in 1993 and standing 14.3 hands high, he is friendly and personable with everyone. Raja can be pushy at times, so he does best with an experienced handler. He is available as a companion only due to his sway-back, but does well haltering, tying, grooming, and trailering.
Companion Only – Adoption fee $200
Romeo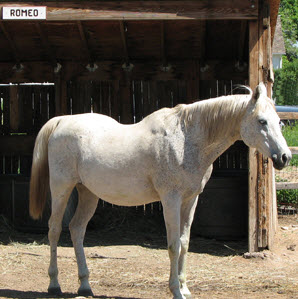 This registered grey Arabian gelding is 15 hands high, and was returned to us through no fault of his own April of 2007. Although he is broke to ride, an old neck injury leaves him suitable for companion only. Romeo is friendly, intelligent, and personable but he will need a home that does not permit pushy behavior.
Companion Only – Adoption fee $200
Princess – HPL Mascot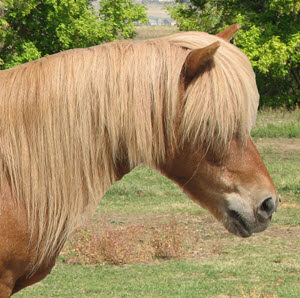 Official HPL mascot! Brought to us in December of 2002, Princess is an adorable chestnut miniature mare. Foaled in 1998 and measuring 9.2 hands high, she is loved by many and has spent her years here traveling and helping promote our mission.
Daisy – HPL Mascot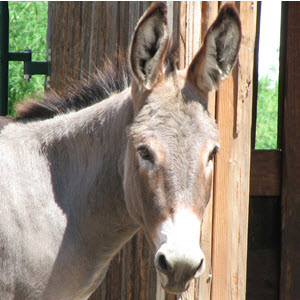 Daisy is 5 years old and was the first burro (donkey) to arrive at HPL. She was rescued at Canyon City through the Bureau of Land Management adoption program. She loves to be groomed.
Millie – HPL Mascot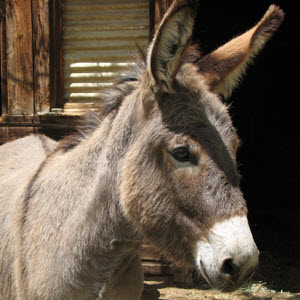 Millie is 6 years old and came from Long Hopes Donkey Rescue in Colorado. She loves to bray ("talk") and is easy to handle. Both are jennets (female donkeys) and are used in many of HPL's educational programs.