Bill Polzin – President
Bill Polzin is originally from upstate New York, born in 1964 in Spencer Port, just east of Buffalo. His mother and father relocated to Colorado when he was 2 years old. His equine experience started at the age of 10 when he joined Westernaires. After Westernaires and after his service in the United States Navy, he began working two teams of drafts in wagon and competition pulling, as well as various saddle horse disciplines. He and his wife Jami began adopting horses in 2012. The first horse they adopted, Isis, came from the Horse Protection League. Now, 4 years later, they are the proud owners of 6 rescue horses. They are dedicated to the rescue industry, the equine world, and much of what it pertains to.

Between his draft horse days and rescue, Bill's interest shifted to natural hoof care. He and Jami have taken on horses from lame to perfect without caution or worry and they have given them a forever home. They have also rescued horses on their own, rehabilitated them and adopted back out, trying to do their part.

Dave DeCecco – Vice President
Dave joined the board of directors in 2015. With a background in non-profit management, he enjoys working with the board and volunteers to help care for the equines at HPL. He lives in Golden with his wife, Sarah and son, Bennett.
Vera Antonucci – Vice President
Vera's journey with horses began in Germany in 2005. Eight years later she rescued her first horse, Marino. That experience stirred her to dedicate her life to improving the lives of rescued horses. After 28 years of living in Germany, she decided to return to the States to follow this mission.

After visiting several ranches, she knew that HPL was where she wanted to be. She began volunteering at HPL one day a week in August 2016, and now volunteers four days a week at HPL.

As a board member Vera works toward the improvement and welfare of the horses, mentally and physically, thereby improving their chances of being adopted. She focusses energy in assisting the coordination and further development of the horse training program as well as the education of interested volunteers to make the horses' time at HPL as wholesome as possible, improving their chance for adoption.
Janet Anderson – Treasurer
Janet has had a love of horses since she was two years old. After raising and training horses for 35
years, she realized her true desire was rescuing horses.

As a teenager, her first horse was purchased with undiagnosed lameness that prevented him from
becoming the jumper she had hoped for. With therapeutic shoeing she used him as a trail horse until he
was retired and passed at 32. A companion horse kept him company. A horse in need of a home due to
an aging owner was referred to her. The horse was not ridable due to an injury so Janet purchased her
to become a broodmare. She produced several foals and lived to be 28. One offspring became a nice
cutting horse. She also purchased an unruly young stallion from an acquaintance and gave him a second
chance, gelded!

Janet realized she'd been rescuing horses, in her own way, all along and wanted to be part of an
organization that could do more. She looked for rescues to join after relocating to Arvada and not having
horses for several years. When she found The Horse Protection League it was perfect! They work hard
caring for and finding forever homes for horses in need.

Pictured is Janet with Satin her newly adopted rescue from HPL. It's contagious!

Jami Polzin – Secretary
Jami Polzin is a Colorado native, born in 1975. From a very young age she fell in love with animals but her love for horses was immeasurable. That love flourished when she joined the Westernaires at the age of 11. Along with her husband Bill, she is the current owner of 5 rescue horses and is dedicated to providing for their care and well-being. She enjoys the challenge of rehabilitating horses in order to give them a second chance at a wonderful life.

Jami and Bill adopted their first rescue horse from The Horse Protection League in 2012; Isis. Isis along with their four other horses have been a blessing and are all incredible animals to work with. Jami simply wants to help rescue, rehabilitate and re-home horses that deserve a forever loving home.
Melloney Millward – Director and Volunteer Coordinator
Originally from the Peak District in the UK, Mel moved to the US in 2006 and has been living in Arvada since 2008. She passed the HPL Ranch weekly and hoped that one day she would have time to spend there, and finally in 2015 she made it. She can't imagine a time without being there, be it for feeding, scooping, or brushing the fine herd.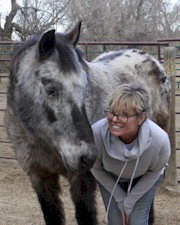 Kelsey Brown – Director
Kelsey grew up riding with the Westernaires and is a horse owner. She is currently using her mustang, Peyote, to compete in cowboy mounted shooting. Over the years, she learned what it takes to care for horses, particularly those with health issues or ones needing special feed. She understands how much time and money goes into caring for these animals, which is why she loves what HPL does. HPL takes horses that are not wanted or who cannot be cared for and attempts to find a loving home for them.

With population growth and the development of land, this can be a challenge, which is why this work is so important. Kelsey is a graduate student at MSU Denver working towards a Masters in Social Work. She is hoping to get an internship working with a therapeutic riding center, working to ensure they have funding and are operating at their best. Kelsey hopes her education and horse experience gives her the knowledge necessary to keep moving HPL forward and making differences for horses and people in our community.