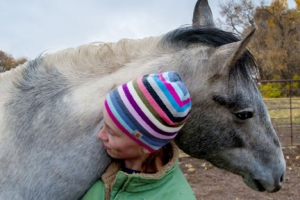 1.  How are HPL adoptions different from those of other horse rescue organizations?
When HPL accepts a horse, we commit to either keeping or following up on the horse for the duration of its life. We screen adopters carefully, and watch them interact with a horse in the hope of placing the horse in a permanent home. After a horse is placed in an adoptive home, we continue to monitor its progress to be sure both owner and horse are content. The adopter signs a contract agreeing that if he wants to sell, lease, or give away a horse obtained from HPL, he must have HPL's approval of the new home and any succeeding homes in advance.
2.  What kind of horses does HPL have available for adoption?
We can never predict what horses we'll have available at any one time as we constantly receive new ones. We accept horses, ponies, donkeys and mules. Some of our animals are donated to us, some we purchase at auction, and some are "impounds" (by the State Veterinarian or animal control officers) from abusive situations. We may have everything from animals with physical problems that make them suitable only as companion animals, to horses that can do light work, and others that can serve as high performance animals.
3.  What does HPL do with the horses before they are adopted?
Even before accepting an animal (and we can't take all that are available or offered), we try to get as much of the animal's history (behavior, performance, veterinary) as possible. When we receive a horse, regardless of how we acquire it, it is sent either to our farm or a safe-home. We evaluate the animal to see if there are any health or behavior issues to be dealt with. We obtain whatever medical treatment is necessary and provide on-going care. If there are behavior issues (ground manners, trailering, etc.) we have a trainer try to overcome them.
4.  How does HPL choose adopters?
When selecting an adopter for a particular horse, we are less concerned about the prospective adopter's ability to ride than about his ability to safely handle the animal, provide for any special needs it has (physical and financial), and to develop a bond with the horse. When we match a horse with an adopter, we will also match riding ability to the horse's riding requirements.
5.  What is the procedure for adopting an HPL horse?
Prospective adopters fill out an adoption application stating their previous horse experience, what kind of horse they're looking for, where and how the horse would be kept, and what they want to do with the horse. We try to match a horse with the perfect applicant for that animal. If we think we have a match, we'll visit the applicant's premises (or the prospective boarding location) and review the applicant's experience in handling horses and riding. We'll try to make sure the applicant's expectations don't exceed what the horse is capable of and that the applicant can properly care for the horse. We'll invite the applicant to visit the horse and spend time working with it. If there appears to be a good match between horse and applicant, we'll go forward with the actual adoption.
6.  What is the adoption fee?
An adoption fee is based on the horse's usability and soundness. It is almost always below the price for a similar horse bought on the open market. It does not reflect what HPL may have spent to rehabilitate the horse.
7.  What if I decide I don't like the horse or can't afford it after I've adopted it?
HPL's goal is to have each horse placed in a happy, loving, permanent home. If, for any reason, the match between horse and adopter doesn't work out (due to financial problems, health or behavior issues, or simply a mis-match of personalities), HPL is always willing to take the horse back.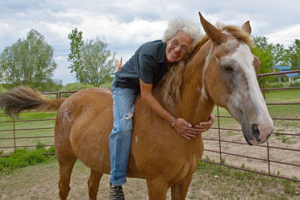 ---