---
Adoption News at HPL!
Monday, May 16, 2016, was adoption day for Chance, one of our rescued horses! Congratulation to the new family adopting Chance. Best Wishes!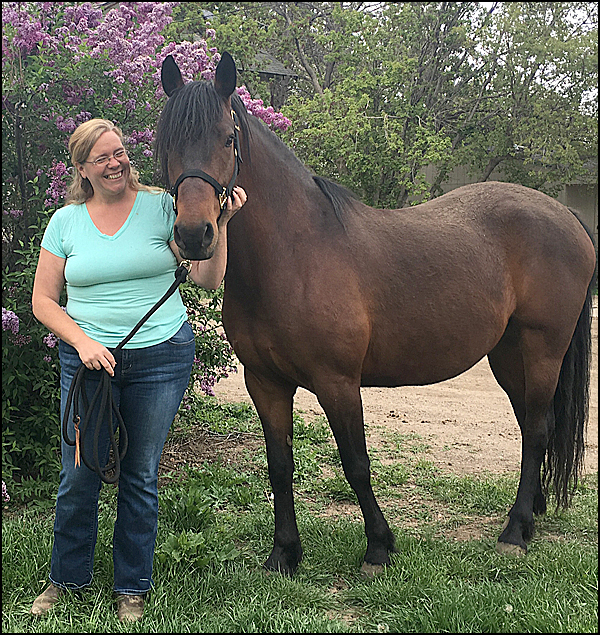 ---
The Horse Protection League is famous!
The City of Arvada has featured the Horse Protection League in a 6-minute video on YouTube and KATV8 (Arvada's TV station). Our horses and our volunteers – Annie Oden, Carol Molnia and Kris Mitchell – did a wonderful job of representing our organization and educating the public about all that HPL does for our horses and our community.
Watch this beautiful video by clicking on the TV icon below:
Please join me in congratulating all of those involved:
Annie Oden, HPL Volunteer Coordinator and Past President
Carol Molnia, HPL Board Director
Kris Mitchell, HPL Volunteer
Thank you to the City of Arvada:
Mike Lee, Manager of Park and Urban Design, who suggested HPL for a video segment
Sherry Nalbach, Television Services Supervisor, Arvada Media Services
Tomás Martinez, Videographer, Arvada Media Services
Debra Lindgren, Producer, Arvada Media Services
Submitted by Carol Molnia, HPL Board Director
---
Yee Haw! Mark your calendars for our Barn Dance on June 18
Join us for our 6th Annual Hoedown for Horses Barn Dance on June 18 from 6 to 10 p.m. at the HPL Ranch. Live music, door prizes, great food and more!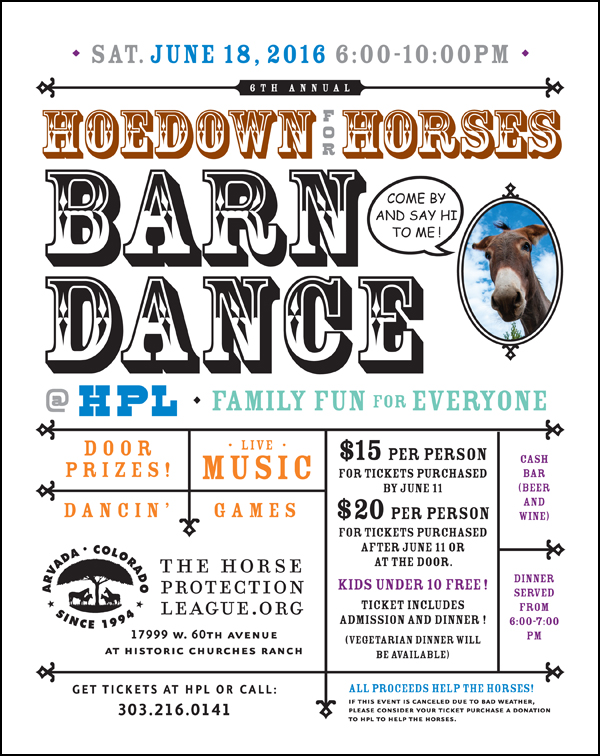 Don't miss the fun!
---
Practical First Aid for Horses Workshop
Don't miss this hands-on workshop with Dr. German so you will be prepared to administer first aid when the time comes. Join us on Saturday, April 30 from 10 am to 2 pm. Cost is only $85 and includes a first aid kit with pre-registration! Event will be held at 25557  Snyder Ave., Conifer, CO. Email Dr. German at DVMGerman@gmail.com to sign up and for more information.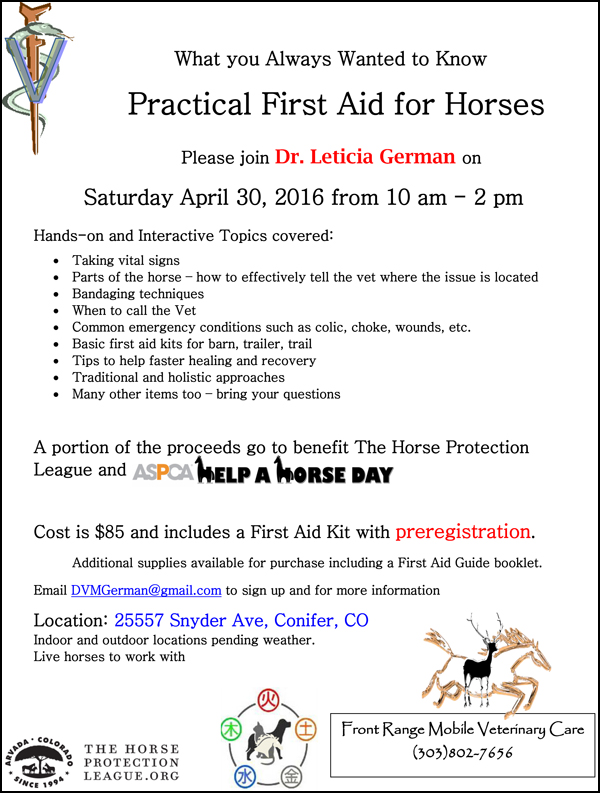 ---
Spring 2016 Newsletter!
Jump to our Newsletter page for all the latest news.
---
New Arrivals!
The Horse Protection League has three baby Navajo horses: two colts and one filly! These youngsters were originally picked up by The Colorado Horse Rescue Network (CHRN) from a Navajo reservation near the Four Corners area of Colorado where they were among 20 horses facing starvation. CHRN reached out to HPL and other horse rescues to find more specific help for these horses. They will remain in quarantine for the next 30 days, but they are already adapting to the abundance of food and kindness from the HPL family!
---
Spring Adoptions!
Amigo has been adopted by Terri, and Bella is going to the Samuelson family. Congratulations to all.
---
We're Always Looking for Volunteers!
If you are interested in working with horses please consider volunteering at HPL.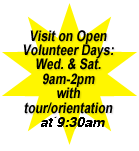 It's a lot of fun and a great way to help the horses.
---
Adoption News!
We are happy to announce that Amigo and Bella have recently been adopted!
Congratulations to Amy and Mike for adopting Shadow and to Paula for adopting Waylon! Wishing you many happy riding adventures and thank you for providing a forever home to another beloved HPL horses!
---
Welcome SaraJane!
HPL has a new horse named SaraJane who came to us from the Ruby Ranch Horse Rescue. Read more about them on our Horses page.
---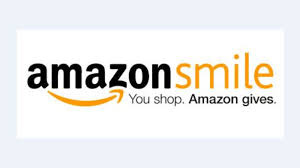 HPL and AmazonSmile are teaming up to help our horses!
Now when you shop on Amazon you can help HPL by using AmazonSmile so we can get a donation of 0.5% of the price of eligible purchases.
What is AmazonSmile?
AmazonSmile is a website operated by Amazon that lets customers enjoy the same wide selection of products, low prices, and convenient shopping features as on Amazon.com. The difference is that when customers shop on AmazonSmile, the AmazonSmile Foundation will donate 0.5% of the price of eligible purchases to the charitable organizations selected by customers.
How does AmazonSmile work?
When first visiting AmazonSmile, customers are prompted to select a charitable organization from almost one million eligible organizations. In order to browse or shop at AmazonSmile, customers must first select a charitable organization. For eligible purchases at AmazonSmile, the AmazonSmile Foundation will donate 0.5% of the purchase price to the customer's selected charitable organization.
Learn more about Amazon Smiles.
---
HPL is in the News!
Click HERE to read our story in the Denver Post Arvada Hub.
---
Look at them now.

Maya and Maggie are making great strides.

On Saturday, August 23, 2014, Emie O'Neill, Barn Manager at HPL, got call from Arvada Animal Control about two horses that were in dire condition and needed a home where they could be properly cared for.

The Animal Control officers used a scale from 1 to 9 to evaluate what condition the horses were in. One horse was rated "1" the other was rated "2". Time was running out for these animals.

Shortly after the call from Animal Control came in to HPL, Emie O'Neill and two other HPL volunteers showed up to meet Arvada Animal Control officers at the horse property for a voluntary owner surrender from an elderly woman who could no longer care for the horses.

The horses were kept in horrible conditions. They were confined in small pens and were terribly neglected.

When the two horses arrived at HPL later that day, they were quarantined in appropriate pens and got immediate veterinarian and ferrier care…and lots of love from the folks at HPL.

Within a week their conditions were much improved. They have a new lease on life, and new names: Maya and Maggie.

Maya, a black Arabian, is thought to be around 31 years old and Maggie, a bay thoroughbred cross, is around 10 years old.

If you'd like to come out to the HPL ranch and visit our newest horses and observe their progress, visitor's hours are Wednesdays and Saturdays from 9 a.m. to 2 p.m. The HPL ranch if a fun place to visit for both adults and children, as well as school groups.

Maya and Maggie are just two more reasons that hope springs eternal at HPL.

For more photos of Maya and Maggie, click HERE.
---