---
Dedicate a Day on HPL's 2018 Calendar!
Now is your chance to dedicate one or more days in the 2018 Calendar.
Please print out and submit the Dedication Form today (click on the blue link). Instructions are on the linked form. General information is listed below.
Don't want to miss your chance to lock down your special date!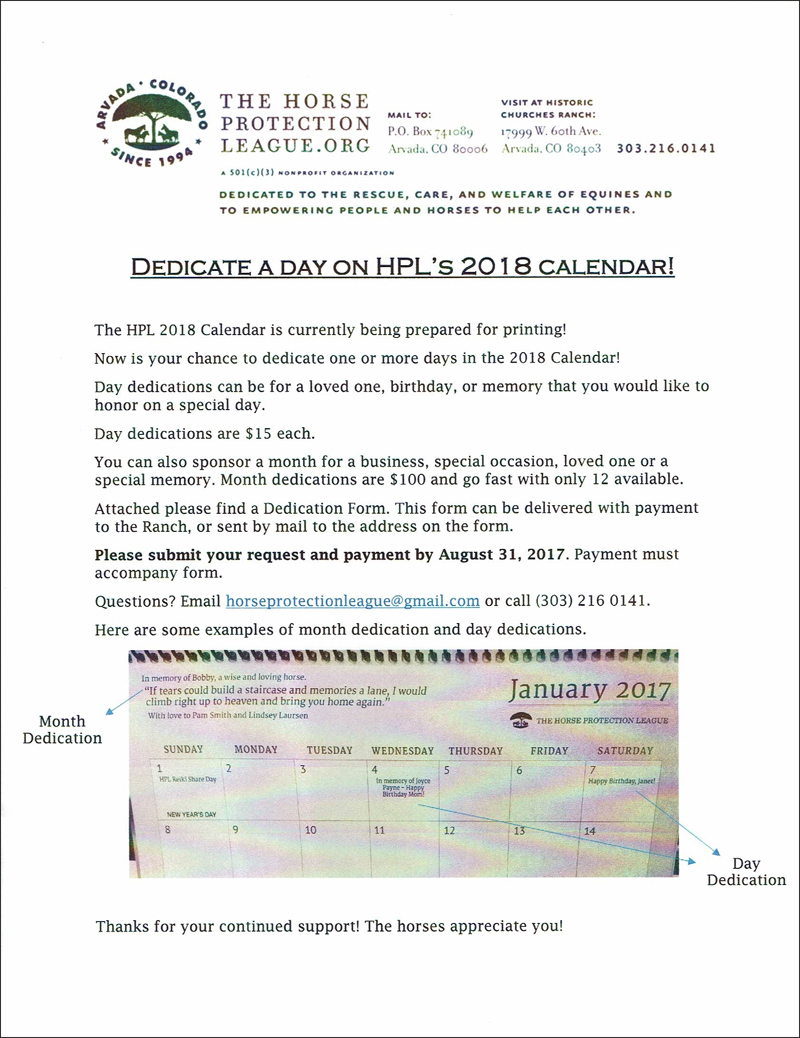 ---
Read the latest news in the Spring 2017 Newsletter!
Jump to our Newsletter page for all the latest news.
---
Watch the Horse Protection League video!
The City of Arvada has featured the Horse Protection League in a 6-minute video on YouTube and KATV8 (Arvada's TV station). Our horses and our volunteers – Annie Oden, Carol Molnia and Kris Mitchell – did a wonderful job of representing our organization and educating the public about all that HPL does for our horses and our community.
Watch this beautiful video by clicking on the TV icon below:
Please join me in congratulating all of those involved:
Annie Oden, HPL Volunteer Coordinator and Past President
Carol Molnia, HPL Board Director
Kris Mitchell, HPL Volunteer
Thank you to the City of Arvada:
Mike Lee, Manager of Park and Urban Design, who suggested HPL for a video segment
Sherry Nalbach, Television Services Supervisor, Arvada Media Services
Tomás Martinez, Videographer, Arvada Media Services
Debra Lindgren, Producer, Arvada Media Services
Submitted by Carol Molnia, HPL Board Director
---
HPL to receive Thrivent Financial charitable funds!
We are excited to inform you that The Horse Protection League is now enrolled as a participating organization in Thrivent Choice. The Thrivent Choice Program is an easy way for Thrivent Financial members to recommend how Thrivent should distribute a portion of its charitable outreach funds, through a vehicle called Choice Dollars®.
By directing Choice Dollars®, Thrivent members can recommend which nonprofit organizations they feel passionate about and feel should receive charitable grant funding from Thrivent.
Some Thrivent members have already begun to direct Choice Dollars® to HPL! Those funds will be used to meet various needs at our ranch.
If you have Thrivent Choice Dollars® available to direct, please consider directing them to The Horse Protection League.
To learn more about Thrivent Choice, visit Thrivent.com/thriventchoice or call Thrivent at 800-847-4836.
---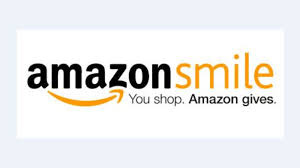 HPL and AmazonSmile are teaming up to help our horses!
Now when you shop on Amazon you can help HPL by using AmazonSmile so we can get a donation of 0.5% of the price of eligible purchases.
What is AmazonSmile?
AmazonSmile is a website operated by Amazon that lets customers enjoy the same wide selection of products, low prices, and convenient shopping features as on Amazon.com. The difference is that when customers shop on AmazonSmile, the AmazonSmile Foundation will donate 0.5% of the price of eligible purchases to the charitable organizations selected by customers.
How does AmazonSmile work?
When first visiting AmazonSmile, customers are prompted to select a charitable organization from almost one million eligible organizations. In order to browse or shop at AmazonSmile, customers must first select a charitable organization. For eligible purchases at AmazonSmile, the AmazonSmile Foundation will donate 0.5% of the purchase price to the customer's selected charitable organization.
Learn more about Amazon Smiles.
---